Selfridges' shoe hall: A girl can only have so many best friends
Hannah Pool spent an hour in Selfridges' new department, and still came out empty-handed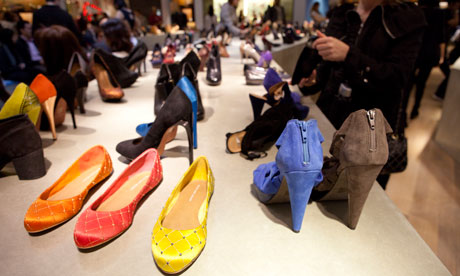 The most impressive thing about Selfridges' new shoe hall – which opened this week, claiming to be the world's largest – is not the 4,000 shoes on display, the 35,000 square feet of dedicated shoe space, or the 55,000 pairs of shoes in stock at any one time. The most impressive thing is that after having spent nearly an hour in there, I came out empty handed.
To put this in context: underneath my bed there are three large plastic boxes full of shoes. I could probably wear a different pair every day for a month without any trouble, perhaps two months.
The problem, unexpectedly, is overabundance: a dazzling wealth of cheaper, high-street brands alongside four-figure famous names that, after a while, threatens to give you a migraine.
Made up of six "galleries" and 11 surrounding boutiques, the hall is almost obscenely vast. You don't have to be a shoe obsessive to be impressed by the scale of the operation, or the sheer front it takes to open such a paean to consumption in the middle of a global recession.
At the entrance are high street brands such as Topshop, Office and All Saints. A rainbow of Havaiana flipflops lines one wall. The place is so busy it's hard to see the shoes for the crowds.
As I try a pair of brown wedged boots at River Island, the assistant tells me she's serving three customers at once. It is enough to put a smirk on George Osborne's face.
Walk a little further and things go up a notch with Dune, Kurt Geiger, LK Bennett and the Tods "loft". Deeper still into the shoe vortex and the setting changes to softly lit velvet and glass. You are now in one of three designer rooms, where shoes by Stella McCartney, Chloe and Marc Jacobs are beautifully displayed in glass boxes or on top of alabaster plinths, and there is a nice rug on the floor. The seating is also better, with soft velvet banquettes as opposed to rubber stools – rich bums must need more cushioning. If you have the budget for designer shoes, but not the stomach for Bond Street sales assistants, this may be the place for you.
But it is in the 11 boutiques or "apartments" that line the galleries where the hardcore spending is being done. Each apartment houses a designer label such as Gucci, Chanel or Louboutin. It is here that I lose grip of reality for a few moments and ask to try on a pair of £945 snakeskin ankle boots. Thankfully, they didn't have my size.